| | | |
| --- | --- | --- |
| | | www.hkuaane.org |
---
September 16, 2017
The HKUAANE held its fall dinner on Saturday, September 16, 2017 at Jumbo Seafood Restaurant, Newton, Massachusetts. It was well attended by 16 students and 29 alumni family. All newcomers were given a chance to introduce themselves. To celebrate Mid-Autumn Festival, moon cakes were served. The program for the evening concluded with a HKU Trivia game and lucky draw. Below is the group photo taken after dinner. (Two attendees left before the photo session.)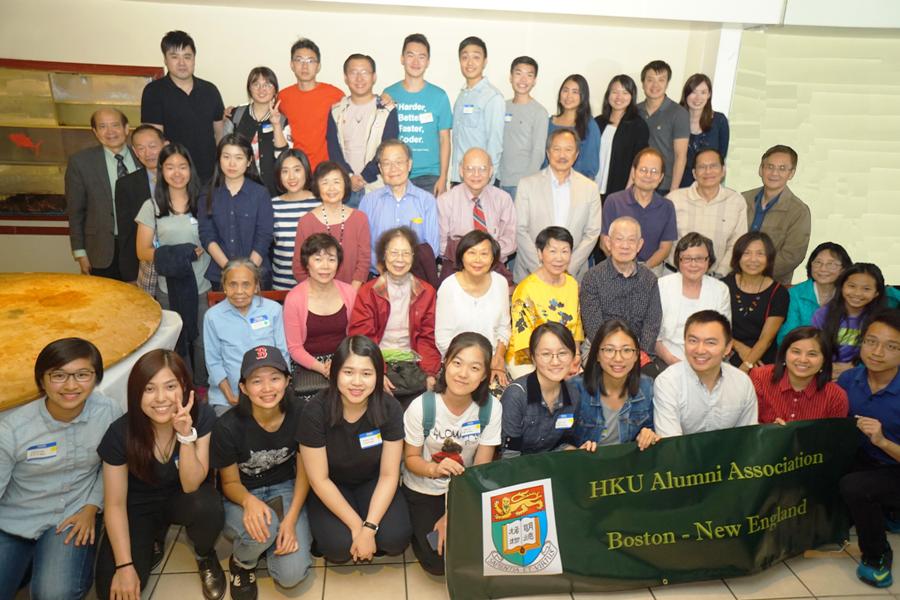 June 24, 2017
Monica Wong,黃佩瑤, Assistant Director of Development & Alumni Affairs Office, and Professor Kenneth Leung 梁美儀教授, Professor of Aquatic Ecology and Toxicology, Swire Institute of Marine Science and School of Biological Sciences, HKU Faculty of Science, were in the Boston area in June to attend a leadership course at the Harvard Graduate School of Education. A welcome dinner for them, held at Jumbo Seafood Restaurant, was attended by several HKU alumni -- Tatfong Ng 吳達方, Simon Wang 王源, Kira Fu 傅中捷, Chris Lee 李浩天 and Sau-Fong Siu 黃秀芳.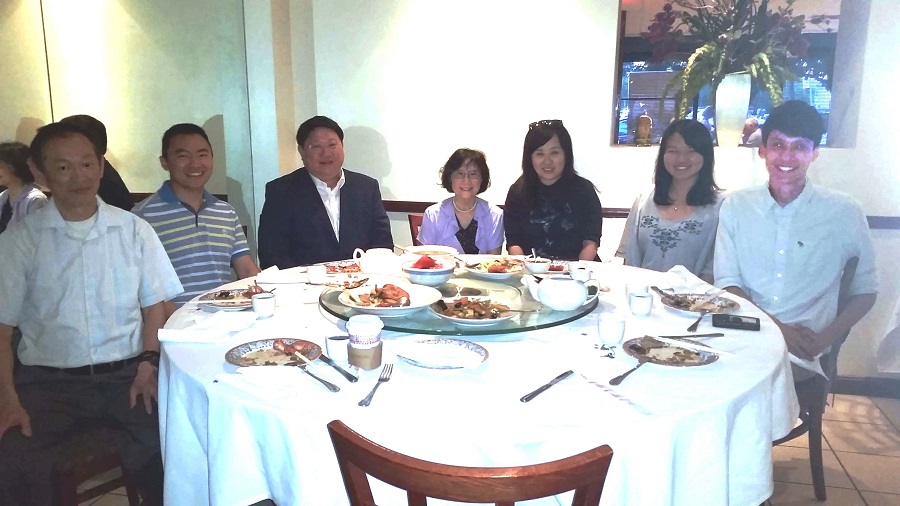 June 22, 2017
The following eight HKU alumni were elected to the Standing Committee of Convocation at the Ordinary General Meeting held on 22 June 2017:



Total number of voters : 5,271
Total number of votes casted : 33,978
(Each voter can elect no more than 8 candidates per ballot)
April 8, 2017
The HKU Alumni Association of Boston-New England (HKUAANE) held its Spring luncheon gathering at the Bulpan Grill & Lounge in Lexington, MA on Saturday, April 8, 2017. Forty-five people (40 adults and 5 children) attended this event. Tatfong Ng reminded attendees that our group has a new name: Hong Kong University Alumni Association Boston-New England. After introducing first-time attendees (Dr. Chin Peng Lee, Beverly Leung, Sharon Wong, Mark Chan, Jonathan Ching, and Moby Hon), alumni Son Mey Chiu and Constance Chung did a captivating presentation on the Ling Nan School of Chinese painting. A special gift was then presented to the representative of Alamak Biosciences, which recently made a very generous donation to our group's student activity fund. Everyone enjoyed the bingo game and lucky draw that followed. Here is the group photo of 40 smiling faces! (Not included in the photo were Doris Watt, Chin Peng Lee, Yanming Li, Florence Yong, and Joshua Lo, who had to leave before photo taking.)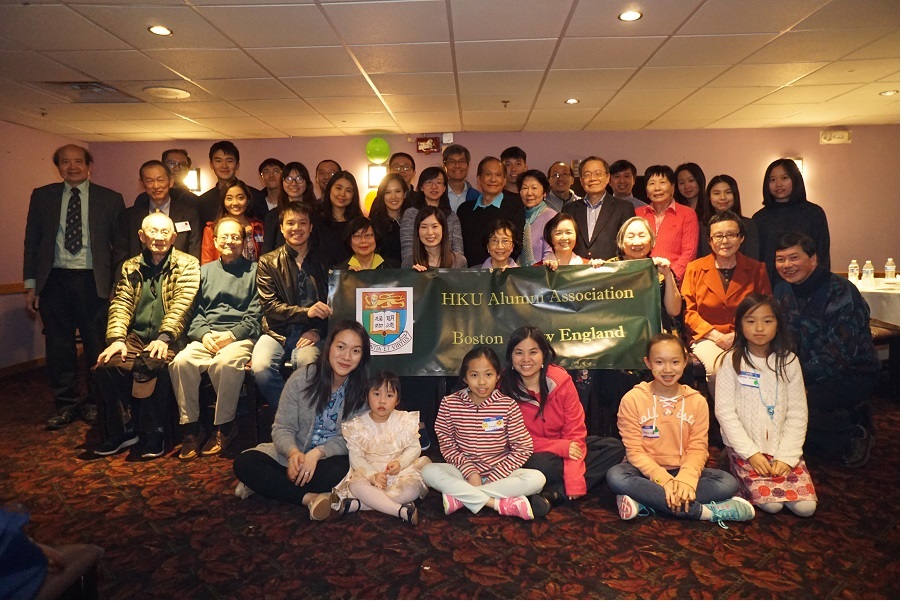 April 8, 2017
Ragging in HKU Residence Halls
The University of Hong Kong's (HKU) St. John's College has expelled three students, suspended 19 and warned another over ragging incidents, including one where the lower half of a junior student's body was covered with wax. The group of about 20 poured wax over the student's lower body on March 21, according to a now-deleted Facebook post, the South China Morning Post reported on Saturday. The victim had been a candidate in a hall council election. In a second incident at Simon K.Y. Lee Hall, a man wearing a HKU jacket was seen hitting another man's head with his genitalia, in a video that went viral in early April.
St. John's College Dean Dr. K. C. Wong 黃國俊 issued this statement: "For students or alumni who are still pondering whether some form of ragging may be justified as a form of socialisation into the so-called 'sub culture' or 'tradition', the College's unequivocal position towards this incident, together with the consequences that the College as a whole has to bear as a result of this incident, should remove any doubt."
March 22, 2017
HKU bans sales of disposable bottled water to help planet
February 2017
THE UNIVERSITY OF HONG KONG Selection of the next President & Vice-Chancellor Membership of the Search and Selection Committees
I. Membership of the Search Committee
a) A lay member of the Council, appointed by the Council (Chairman); and b) Three full-time senior professorial Teachers at Chair Professor level*, one from each of the 3 cognate Faculty groupings (viz. Medicine and Dentistry; Engineering, Science and Architecture; Arts, Social Sciences, Education, Business & Economics, Law, and including The Kadoorie Institute and the Hong Kong Institute for the Humanities & Social Sciences) to be elected from their own cognate Faculty grouping. Each senior professorial Teacher can nominate up to 3 candidates (one from each of the 3 cognate Faculty groupings). (*comprising Chair Professors and Professors with Chair title)
II. Membership of the Selection Committee
a) The Chairman of the Council (Chairman)
b) 2 other lay members of the Council, 1 being the lay Council member on the Search Committee, and the other elected by the Council
c) A Faculty Dean (elected by the Faculty Deans among themselves)
d) 3 full-time professorial Teachers* (one from each of the 3 cognate Faculty groupings to be elected from their own cognate Faculty grouping) (*comprising Chair Professors, Professors with Chair title, and Professors)
e) A full-time non-professorial Teacher*/academic-related staff# member, elected from among their own number (*comprising Associate Professors, Assistant Professors, Senior Lecturers and Lecturers) ( # comprising academic-related staff who are involved in teaching and/or research activities and are required to undergo the Performance Review and Development (PRD))
f) An alumnus/alumna elected by Convocation
g) A full-time non-academic staff member, elected from among their own number
h) A full-time student, elected by undergraduate and postgraduate students
Selection Criteria for the Next Vice-Chancellor:
Excellent academic standing and leadership: The next Vice-Chancellor should have excellent academic standing internationally, with significant contributions to teaching and learning, research and service, and possess the necessary intellectual qualities inclusive of a strong aspiration and commitment to leading the University in its pursuit of academic excellence that is recognized globally, and taking it to new heights.
Integrity: He/She should be a widely respected person of high ideals and principles, and be able to uphold the University's core values and safeguard its interests.
Vision: He/She should be innovative and have a solid knowledge of worldwide trends and developments in higher education, as well as a strong vision of the University's role, commitment and future development in the region and globally.
Demonstrated management capability: He/She should be able to lead a cross-cultural, complex academic community with diversified interests, and be good at team building, conflict resolution and crisis management, and possess a proven track record of resource development and fund-raising.
Effective interpersonal and communication skills: He/She should be willing to consult and engage students, staff and other relevant stakeholders in promoting the vision and mission of the University, and be able to project the University's image and enhance its reputation.
Early February 2017
Professor Peter Mathieson resigns as HKU President and Vice-Chancellor University Council to initiate global search for candidates.
The University of Hong Kong announced today (February 2) that Professor Peter Mathieson has resigned from the post of President and Vice-Chancellor. The University Council will soon start a global search for candidates. In an email to HKU members, Professor Mathieson said the decision was made out of personal reasons and after extensive discussions with his family. He will take up a new appointment as Principal and Vice-Chancellor of the University of Edinburgh. Professor Mathieson assumed office as the 15th President and Vice-Chancellor on a five-year term in April 2014. He will leave the post by January 2018.
---
Statement from HKU Convocation Standing Committee
The Standing Committee of HKU Convocation expresses its concern over the resignation of Professor Peter Mathieson from the post of President & Vice-Chancellor of the University before the expiry of his term. The Standing Committee has full confidence that Convocation members will continue to render their best support to the University during the transition period. It will be for the best interests of the University to ensure that the recruitment for the next President would be conducted in a smooth manner so as to find the best possible candidates. We have strong faith in the solid foundations of the University laid over the past 100 and more years, and it is our hope that the next President would have the passion and commitment to continue the efforts of predecessors in upholding HKU's core values and bringing it forward to scale new heights. The Standing Committee appreciates Professor Mathieson's leadership of The University of Hong Kong and his support of the HKU Convocation during the past three years. We wish him continuing success in his new endeavours.

HKU Convocation Standing Committee
(The Convocation of the University of Hong Kong 香港大學畢業生議會 is a statutory body comprising graduates and teaching staff of the University. Website: http://www.convocation.hku.hk)
---
香港大學畢業生議會常務委員會聲明
香港大畢業生議會常務委員會就馬斐森教授在任期屆滿前辭去香港大學校長一職表示關注。本會有信心畢業生議會各成員將會在過渡期間繼續全力支持大學。 本會認為,確保新校長遴選工作順利進行,物色到最佳繼任人選,是香港大學最佳福祉。我們對香港大學過去 多年來的堅實基礎充滿信心,並期望下任校長具有熱誠及承擔,繼承前人的努力,堅守香港大學的核心價值,帶領她達至新的高峰。本會欣賞馬斐森教授過去三年對香港大學的領導及對畢業生議會的支持。祝願他在新的崗位繼續成功。

香港大學畢業生議會常務委員會
(香港大學畢業生議會為香港大學法定組織,成員包括大學畢業生及教員。)
---
October 2016
The HKU Alumni Association of Boston-New England (HKUAANE) held its Fall luncheon gathering at the Changsho Restaurant in Cambridge, MA on Saturday, October 15, 2016. Thirty HKU alumni, friends, and exchange students participated in this year's luncheon. Dr. Dalena Wright, Senior Fellow at the Ash Center for Democratic Governance and Innovation, Harvard University, gave a talk entitled "British Foreign Policy and the Return of Hong Kong to China," followed by Q & A. Roy Y. Chan, convenor of HKUAANE, chaired the event. At the conclusion of the event, Mr. Chan announced to the participants that he will be stepping down as leader of HKUAANE to pursue a full-time upper-level administrative role in the Office of the Vice President for Diversity, Equity, and Multicultural Affairs (DEMA) at Indiana University Bloomington. The responsibility for running HKUAANE will be passed on to Dr. Tatfong Ng, Research Assistant Professor of Ophthalmology, Boston University. He will be assisted by Dr. Kira Fu, a postdoctoral fellow at the Boston Children's Hospital.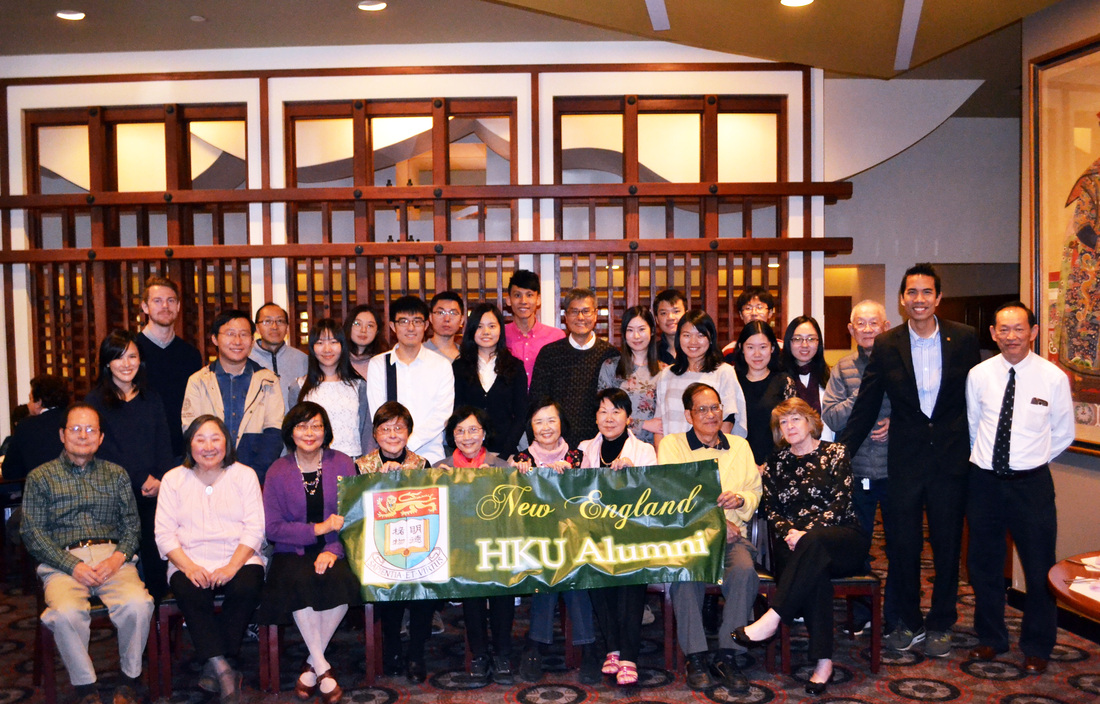 ***************************************************************************************************************************************************************

Message from Professor Peter Mathieson, President and Vice-Chancellor: Research Grants and Projects

Dear colleagues, students, alumni and friends,

I am very pleased to share with you the news that HKU has received excellent results in the recent announcement by the Research Grants Council on a number of competitive peer-reviewed research funding schemes. HKU competed in and secured the most research grants and the highest total grant quantum in the four major grant schemes (4 projects worth $140m in the TRS; 233 projects worth a total of $157.5m in the GRF; 34 projects worth $22.9m in the ECS; and 2 projects worth $1.3m in the HSSPFS). More details on HKU's funding results can be found at http://www.rss.hku.hk/rgc/funding-results.htm.

Theme-based Research Scheme (TRS)

Our researchers have done very well in the 6th round of the TRS. This is one of the most strategic and largest public funding schemes in terms of grant quantum in Hong Kong. The awarded projects have undergone a rigorous peer-review process and were selected for their academic excellence and potential impact to the long-term development of Hong Kong, among many criteria.

Of the 7 projects funded, HKU is participating in ALL 7 projects, and is charged to coordinate 4 of them. The following projects coordinated by HKU have been given a total budget valued at $140m (including on-costs, PC allowance and institutional matching funds) for a period of 5 years:

1. Understanding Cancer Stemness in Liver Cancer - From Regulation to Translational Applications
(Project Coordinator: Professor I.O.L. Ng, Department of Pathology, LKS Faculty of Medicine)
2. Gastric Cancer Genomics and Beyond - Moving from Patient Samples to 3D Organoid Cultures for
Integrative Genomics Analysis, Drug Sensitivity Assays, Cell Biological Studies and Animal Models
(Project Coordinator: Professor S.Y. Leung, Department of Pathology, LKS Faculty of Medicine)
3. Enhanced Separation and Sludge Refinery for Wastewater Treatment -
Solving the Nexus of Pollution Control and Resource Recovery in Mega Cities
(Project Coordinator: Professor X.Y. Li, Department of Civil Engineering, Faculty of Engineering)
4. Learning and Assessment for Digital Citizenship
(Project Coordinator: Professor N.W.Y. Law, Faculty of Education)

General Research Fund (GRF), Early Career Scheme (ECS), and Humanities and Social Sciences Prestigious Fellowship Scheme (HSSPFS)

Apart from the TRS, HKU also has the highest number of approved projects and the largest share of approved funding among all local institutions for the GRF (14th consecutive year), ECS and HSSPFS. The GRF projects are an indication of the breadth, depth and quality of the research right across the HKU campus. Success in the ECS projects is a testimony of the calibre and quality of the young academic and research staff who have chosen to embark on their careers at HKU. Our competitiveness in the HSSPFS is a validation of the remarkable talents we have in the field of humanities and social sciences.

I would like to offer my warmest congratulations to all successful applicants and their research teams, and wish them success in the deliverables of these projects. My thanks to all researchers who participated in the submissions. Competitions for public research funds are increasingly keen. For colleagues who have missed out in these rounds, I hope you will continue to refine your proposals and explore novel ideas for future submissions. There are also many other public and private funding schemes to which proposals can be submitted – so I urge you to persevere! Our staff in Research Services would be happy to provide more information on these schemes. I also wish to take this opportunity to express our appreciation to our colleagues in Research Services and relevant administrative units for their professional assistance in the processing of these proposals and administration of the grants.

The University's Vision 2016-2025 captures our ambition to be Asia's leading global university with cutting-edge research in critical areas through knowledge creation, translation, realisation and impact. We will continue to foster strategic collaboration and partnerships across institutions and continents. HKU is well placed to capitalise on prospective research opportunities as they emerge around the world, integrating Western and Eastern research scholarship. We will continue to advance research in terms of quality, impact, innovation value and community outcomes. Let's work together to realise this ambition.


With best wishes,

Peter Mathieson
President and Vice-Chancellor

MAY 2015
On Sunday, May 3, 2015, the HKU Alumni Association of New England (HKUAANE) held its inaugural "Meet & Greet with HKU Vice Chancellor & President Peter Mathieson" at the Hong Kong Restaurant, Harvard Square in Cambridge, MA. We would like to thank Professor Mathieson for making his first visit to the HKUAANE this afternoon in the state of Massachusetts. To view photos of the event, please visit: http://www.hkuaane.org/photos.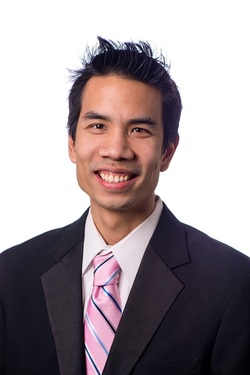 We extend a warm welcome to the following HKU exchange students who are in New England for this semester (Fall Semester, 2014):

Bentley University:
Mr Ip Chun Yeung Jason, BBA(IS), mentor Anthony Lam
Mr Wong Wing Kwan Ivan, BBA(Acc&Fin), mentor Jenny Lau
Ms Zhang Jiayan, BBA(Acc&Fin), mentor Rae Flanagan

Boston College (all mentored by Roy Y. Chan):
Mr Tang Xinkai 汤心恺, BBA(Acc&Fin)
Ms Wang Ruo Yin Olivia, BEcon&Fin
Ms YANG Luona 杨罗娜, BSc(AC)

Tufts University:
Mr Albano Guevarra Jayson Paolo, BA, mentor Kira Fu
Ms Zeng Shu Xuan Helen 曾樹烜, BSc, mentor Jing Fan
Ms Li Meiqing 李梅磬, BA(Urban St), mentor Keith Wong
Ms Zhou Yixian 周藝嫻, Economics, mentor Keith Wong

Wellesley College (both mentored by Sau Fong Siu):
Ms Yu Wai Sim Miriam 余蔚嬋, BSS(Psycho)
Ms Zhong Yuguo 鍾雨果, BEcon&Fin